Pine Mountain and Camp Tamarancho Mountain Bike Trail Map
Discover the best mountain bike trails at Camp Tamarancho and the adjacent Pine Mountain region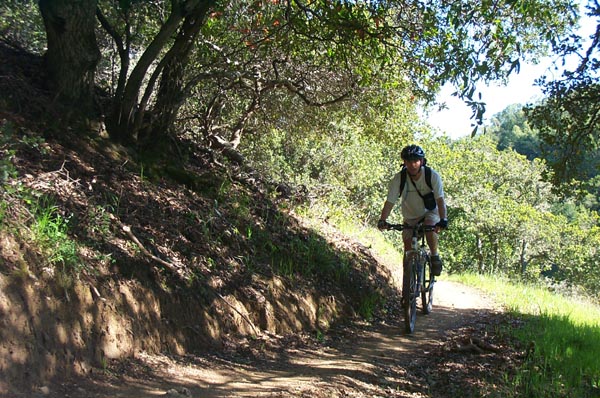 Camp Tamarancho Area Summary

Location: Near Fairfax
Best For: Intermediates to advanced
Suitable For: All levels except beginner
Ground Cover: Grasslands, oak and evergreen forest
Seasons: Exceptional in spring. Can be muddy in winter, hot in summer.
Description:
The rather remote area of central Marin off Fairfax-Bolinas Road offers some of the Bay Area's best mountain biking for advanced riders. The Pine Mountain loop is considered a classic, with steeply rolling fire roads exploring scenic ridgetops and descending to cool evergreen forests.
Camp Tamarancho offers Marin's best single-track for those willing to pay the $45 annual or $5 daily fee. For the money you get one dynamite single-track loop with great trails built for bicyclists by the Marin Bicycle Trails Council. If you're fortunate enough to have free weekday time, run don't walk to purchase the pass (visit www.boyscouts-marin.org for more info or to purchase the day-pass). If you're stuck riding weekends only, you might find the combination of crowds, tight trails, and short sight-lines a bit stressful.
The lay of the land for both rides is classic Marin, rolling grass and oak-covered hills, punctuated by evergreen forests. The area has a wilder feel than other Marin destinations, and is more remote. Use extra caution here.
Click here to preview the Camp Tamarancho/Pine Mountain Mountain Biking Map
Pine Mountain and Camp Tamarancho Bike Trails
Intermediate Level Trails
Pine Mountain Road - Long fire road with some steep rutted sections. Great views.
San Geronimo Ridge Road - Ridgetop fire road rolls through classic Marin terrain
Toyon Fire Road - Moderate fire road connector to Tamarancho trails
Goldman Trail - Relatively flat single-track
Sherwood Forest Trail - New single-track connects Tamarancho Trails to the Loma Alta Preserve
Advanced Level Trails
Repack Trail - Wicked fire road descent from San Geronimo Ridge
Serpentine Trail - Technical single-track switchbacks up wooded hillside
Wagon Wheel Trail - Tight single-track hugs hillside. Caution: exposed sections and blind curves
B17 Trail - Fun single-track deep in evergreen forest
Broken Dam Trail - More fun single-track winds through mixed terrain
Directions to trailhead(s):

From Hwy. 101 take the Sir Francis Drake Blvd. exit heading towards San Anselmo and Fairfax for about 6 miles. As you enter downtown Fairfax, go left then right to get onto Broadway, a frontage road parallel to Drake Blvd. Use public parking in Fairfax for the Tamarancho ride. For Pine Mountain (ride #1) turn left on Bolinas Road from Broadway. In 0.4 miles you reach a fork. Take the left road to stay on Fairfax-Bolinas Road. The Pine Mountain trailhead is 3 miles up the road.