Cool Loop and Salmon Falls Mountain Bike Map
Guide to the best mountain bike trails near Salmon Falls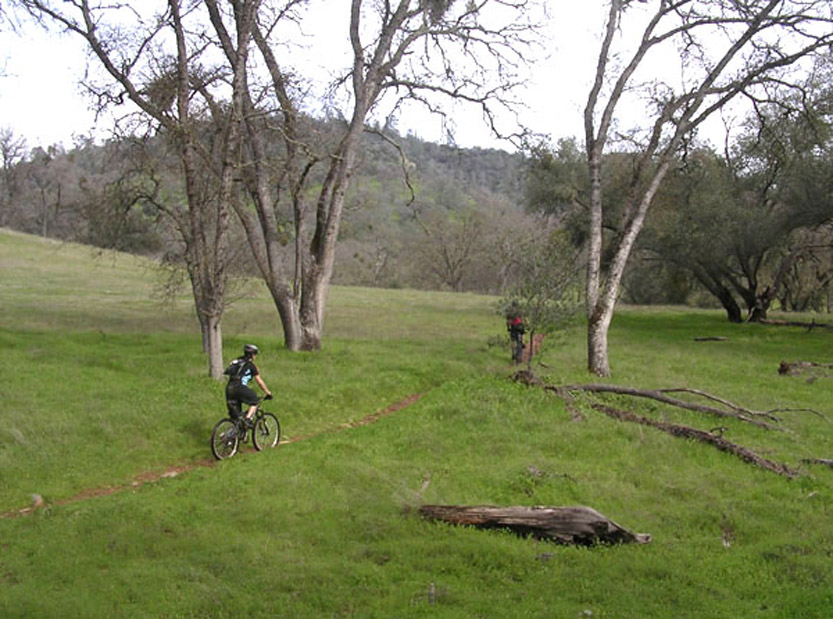 Salmon Falls Area Summary

Location: Between El Dorado Hills and Auburn
Best For: Beginners/Intermediates
Suitable For: All levels
Ground Cover: Oak and evergreen forests, grasslands
Seasons: Year round, though extremely hot in summer
Description:
Sacramento area residents aren't blessed with a huge number of riding options that don't require serious drive-time. What's missing in quantity, however, is made up for by some of the sweetest riding in the state for beginners and intermediate riders.
The jewel of the region is the Salmon Falls (aka Darrington) Trail, which traces the shoreline of the South Fork of the American River as it opens up into Folsom Lake. An eight-mile strip of beautiful single-track, Salmon Falls manages to be suitable for riders of all levels. Beginners will need to walk in a few spots, but they'll be treated to a stellar introduction to the sport.
Just to the north of Salmon Falls is the Olmstead-Cool Loop, a fire road ride that passes through some beautiful oak-studded grasslands. Though not technically challenging, Olmstead-Cool is an excellent workout ride for experienced bikers as well as a great ride for beginners. Please note that this loop is heavily used by equestrians. Ride with caution and courtesy to avoid startling the horses.

The Cool Loop and Salmon Falls Trails are just a few of the huge variety of mountain biking spots that the Northern Sierra has to offer. Discover more great rides.

The trail map below is a jpeg of the actual maps from our books and map-sets.
Salmon Falls Area Trails
Cool Loop - Easy to moderate fire road loop through beautiful grasslands and canyons. Sometimes difficult to follow, with lots of unsigned offshoots.
Salmon Falls (aka Darrington) Trail - Gorgeous single-track along American River. Generally easy to moderate, with a few short technical and exposed sections and some stream crossings.
Sweetwater Trail - Short but sweet. Narrow, moderately, technical single-track. Good for quick out-and-back, or as add-on to Salmon Falls ride.
Directions to trailhead(s):
The trailheads for the featured rides can be reached from the Hwy. 49 exit in Auburn on I-80.
Ride 1: From the exit, follow signs for Hwy. 49 South (on east side of I-80) as it heads through town, then past the river confluence. In about 6.5 miles from the exit, just before the town of Cool, go right on the road just to the north of the fire station. Trailhead parking is behind the fire station.
Ride 2: Follow directions from Ride 1. Pass through Cool and in 3.5 miles go right on Salmon Falls Road. Stay on Salmon Falls Rd. for six miles. Parking for trailhead is on right side of road just before bridge. Note: Ride 2 can also be reached by driving through El Dorado Hills from Hwy. 50.