China Camp State Park Mountain Bike Trail Map
Discover the best mountain bike trails in China Camp State Park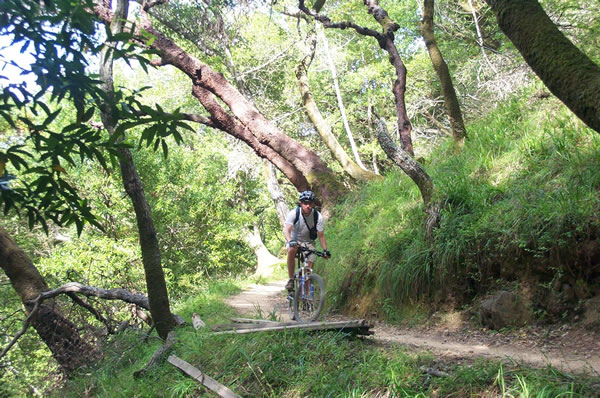 China Camp State Park Area Summary

Location: San Rafael
Best For: Beginner/Intermediates
Suitable For: All levels except extreme
Ground Cover: Mostly oak and laurel forest
Seasons: Good year round
Description:
China Camp reminds me a little of a utility player in baseball. Perhaps not an all-star amongst the big hitters of Marin County mountain biking, China Camp nevertheless succeeds in a number of specialized roles. First and foremost it offers a bevy of open single-track trails. OK, they're wide and rarely technical, but heck, this is Marin...be thankful. China Camp Mountain biking is also great for beginners, offering a selection of relatively easy trails and loops. It's also a great after-work spot with short loops and easy access from suburban Marin.
As a bonus, riders are treated to great scenery in a mellow, park-like setting. Most of the lower trails are relatively open, affording great bay views, while the upper trails have a more wooded feel. There are tons of deer that seem pretty nonchalant about human presence...that only adds to the laid-back and unthreatening vibe of China Camp.
Click here to preview the China Camp State Park Mountain Biking Map
China Camp Trails
Beginner Level Trails
Shoreline Trail - Easy single-track with great bay views.
Intermediate Level Trails
Bay View Trail - Single-track trail climbs to ridge through forest. Moderately technical in places.
Oak Ridge Trail - Fun single-track through forest and grasslands.
Miwok Fire Road - Moderately steep fire road.
Echo Trail - Single-track connector from Bay View Trail to Bay Hills Drive.
Ridge Fire Road - Rolling, sometimes steep fire road through forest.
Back Ranch Fire Road - Connects relatively open flatlands to forested ridge. Steep up top.

Directions to trailhead(s):
China Camp State Park is just a 25-minute drive north of the Golden Gate Bridge. Take the N. San Pedro Road exit off Hwy. 101 in San Rafael and head east for about four miles. There's a small entrance fee to park in China Camp. There is also abundant roadside parking just outside the park.