North Yuba River and Bullards Bar Mountain Bike Trail Map
Trail map and information on the best mountain biking
rides the North Yuba River Area including Bullards Bar Reservoir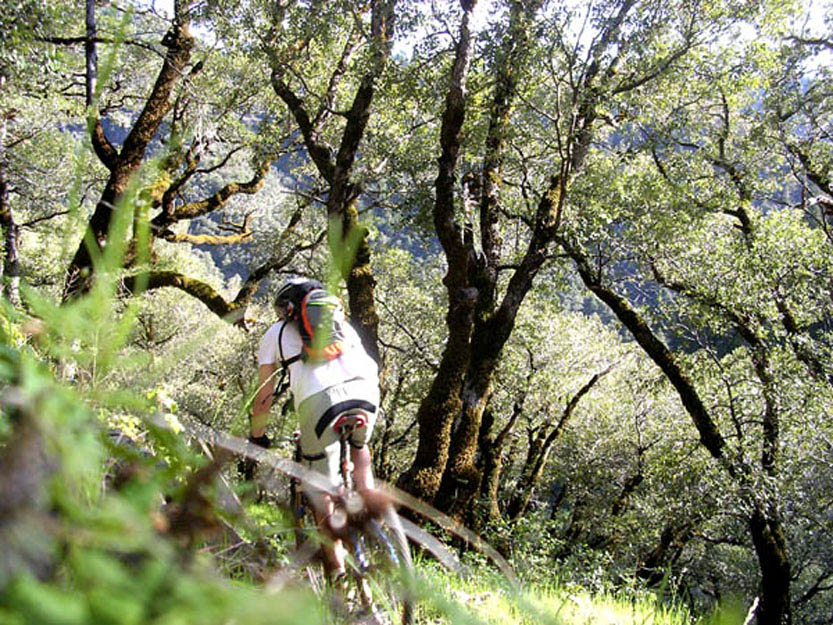 Area Summary

Location: Hwy. 49 between Nevada City and Downieville
Best For: Advanced/intermediate riders
Suitable For: Strong beginners and better
Ground Cover: Mixed forest on North Yuba Trail, dense evergreen forest at Bullards Bar
Seasons: Year round


Description:
If you're itching for some Downieville-like mountain biking, but don't want to wait until the snow melts, head downstream to the North Yuba Trail and Bullards Bar Reservoir. Here you'll find the tight, technical single-track and awesome river views that you'll find in Downieville, but at 2,000-3,000 feet, these trails are generally rideable year-round. OK, there are no 4,000- foot descents here, and you'll actually have to ride uphill, but the biking is nevertheless spectacular.

Bullards Bar is a network of trails tucked next to a large reservoir, located 20 miles northeast of Nevada City, off Hwy. 49. The trails here are well maintained, thanks to the hard work of B.O.N.C., a local trail access organization. There's riding here for all levels, though experienced single-track riders will enjoy the super-tight sections of the Bullards Bar Trail more than beginners.

Further east on Hwy. 49, the North Yuba Trail runs from Rocky Rest Campground to Goodyears Bar (there are plans to extend it five more miles to Downieville), offering some wonderful technical riding with gorgeous river views. The North Yuba Trail is definitely not for beginners, and all riders should be prepared to carry their bikes in a few sections.

The North Yuba River is just one of the huge variety of mountain biking spots that the Northern Sierra has to offer. Discover more great rides.

North Yuba River and Bullards Bar Bike Trails

Beginner to Intermediate Level Trails

8-Ball Trail - Easy single-track parallels Marysville Road
Bullards Bar Trail - 13-mile, mostly single-track trail through dense forest. Very tight and technical in places.

Advanced/Extreme Level Trails


Rebel Ridge Trail - Fun single-track with numerous switchbacks through dense forest.
7-Ball Trail - Steep single-track connects the Bullards Bar Trail with the 8-Ball Trail.
North Yuba Trail - Beautiful single-track hugs steep hillside overlooking North Yuba River. Some very challenging sections with exposure. Use caution!
Halls Ranch Trail - Relentlessly steep single-track through evergreen forest.
Fiddle Creek Trail - Remote, technical single-track. Overgrown in places.


Directions to trailhead(s):
Ride 1 - Bullards Bar - From Nevada City, take Hwy. 49 towards Downieville for 20 miles. Turn left on Marysville Road. In 0.6 miles turn right onto dirt road. The trailhead for the Rebel Ridge single-track is on the left.

Ride 2 - North Yuba Trail -The eastern trailhead for the North Yuba Trail is near the small town of Goodyears Bar, which is 4 miles west of Downieville. From Hwy. 49, turn south on Mountain House Road. The road curves left, then crosses a bridge before coming to an intersection. Turn right and follow road for 0.2 miles. Stay left as pavement turns to dirt. Trailhead is in 0.1 miles on right side.