Mount Diablo State Park Mountain Bike Trail Map
Guide to the best mountain bike trails in Mount Diablo State Park.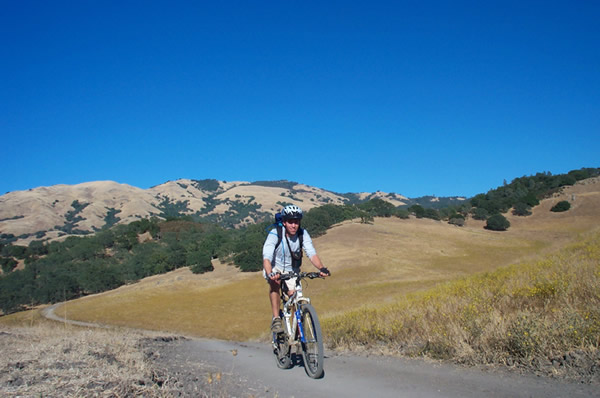 Area Summary
Location: Walnut Creek vicinity
Best For: Strong Intermediates
Suitable For: All levels
Ground Cover: Open grasslands, chaparral, oak woodlands
Seasons: Best from late fall through mid-spring. Usually hot in summer. Can be muddy with heavy rain.
Just as it reigns over lesser peaks in the East Bay skyline, Mount Diablo has a deserved reputation as the crown jewel of East Bay mountain biking. For sheer variety of terrain and quantity of trails, Diablo can't be beat. Mount Diablo also boasts stunning and sometimes unusual beauty, great views and a variety of wildlife.
While rides of all levels can be fashioned, Diablo's bike trails definitely cater to strong intermediates and better. Though only a few sections of single-track are open, the fire roads tend to be steep and rugged. Be prepared to walk on some trails and use extra caution (seat down, weight back!) descending.
A note about Diablo single-track. The official policy is that single-track trails are considered closed to bikes unless expressly designated as multi-use. However, in some instances there is substantial inconsistency between printed information, online information and trail signage as to whether a trail is multi-use.
Check out our interactive Mountain Biking map of Mount Diablo State Park.
Mount Diablo Trails
Easier Trails
Pine Canyon Road - Continuation of BBQ Terrace Road, through forested canyon with multiple stream crossings.
Intermediate Level Trails
Angel Kerley Road - Fire road cuts across semi-open hillside.
BBQ Terrace Road - Fire road descends into wooded canyon. Steep in places.
Briones-Mt. Diablo Road - Ridgetop fire road through open grasslands.
Buckeye Trail - Double-track. Loose and steep in places.
Curry Canyon Road - Fire road through canyon.
Dan Cook Trail - Fun single-track section of the Summit Trail. (Most of Summit Trail closed to bikes.)
Diablo Ranch Trail - Fun single-track through semi-open oak woodlands.
Donner Creek Fire Road - Fire road through picturesque valley.
Frog Pond Road - Fire road through grasslands.
Green Ranch Road - Sometimes steep fire road through grasslands and scrub.
Knobcone Point Road - Fire road through grasslands and scrub.
Meridian Ridge Road - Steep fire road.
Mothers Trail - Wide single-track. Steep in places.
Riggs Canyon - Another fire road that runs from shady canyon to open ridgetop.
Advanced Level Trails
Wall Point Road - Steep though ridable fire road through mixed terrain.
Burma Trail - Fire road climbs from forested canyon to open grasslands. -Caution- Ridiculously steep in places.
Mitchell Canyon Road - Fire road starts gently through lush canyon, then climbs steeply towards Deer Flat.
Prospector's Gap Road - Fire road. Loose and steep
North Peak Trail - Steep, technical exposed single-track.
Directions to trailhead(s):

Mt Diablo is located in the Walnut Creek/Danville vicinity. For the main south entrance take the Diablo Road exit off I-680. Stay on Diablo Road as it heads northwest through the foothills. Follow signs to the park, which lead you up South Gate road. Macedo Ranch (ride 1) is located at the end of Green Valley Road, a left off of Diablo 1.4 miles from I-680.
For Mitchell Canyon, take the Concord Ave. exit off Hwy. 242. Head east for .6 miles. Take a left on Clayton Road. Stay on Clayton Road for 5.5 miles. Take right on Mitchell Canyon Road. Trailhead is 1.5 miles ahead.