Downieville Mountain Bike Trail Map
Guide to the best mountain bike trails near Downieville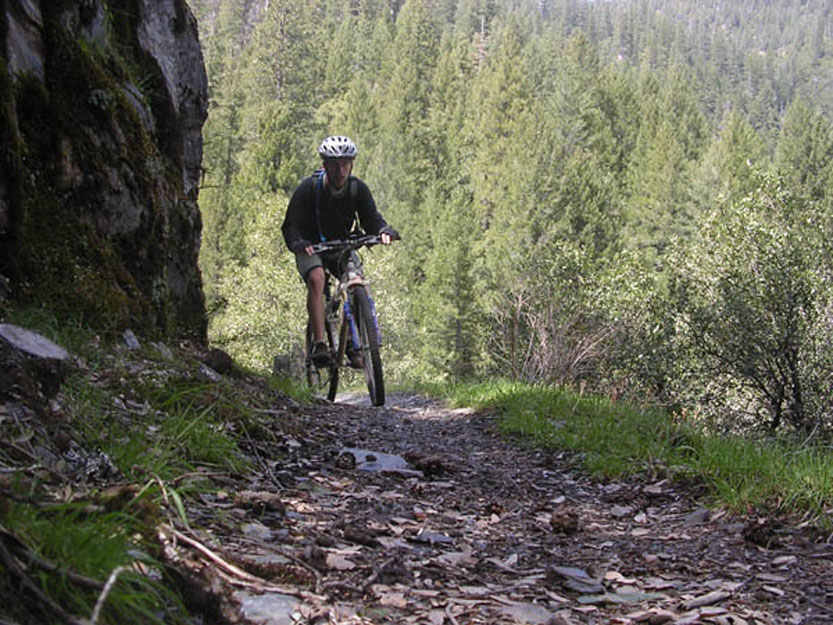 Downieville Area Summary

Location: Hwy. 49, 45 miles northeast of Nevada City
Best For: Advanced riders
Suitable For: Strong intermediates and better
Ground Cover: Mostly evergreen forests, lakes and alpine meadows at higher elevations
Seasons: Late spring through fall. Some higher- elevation trails maintain snowpack into June.
Description:
Downieville, a tiny town tucked into a remote region of the Gold Country, is an unlikely mountain biking mecca. However, thanks to the wide range of single-track trails in the surrounding forest and the shuttle services run by local bike shops, the region is a magnet for riders looking for a thrilling downhill experience.
Many find it on the famous Downieville Downhill, a 15- mile, mostly downhill single-track ride that drops 4,000 feet in elevation. Unless you're super-human, this ride requires a shuttle to the trailhead. Fortunately, a few local shops, including Yuba Expeditions and Downieville Outfitters, provide shuttle service for a reasonable price. A wealth of additional trails in this part of the Tahoe National Forest make for exceptional loops as well as shuttle rides for those who want to explore trails less traveled.
The riding around Downieville is definitely geared toward strong intermediate and advanced riders who are confident of their technical skills. Please note that the heavily used Butcher Ranch Trail, one option for the Downieville Downhill, is heavily used and has suffered significant erosion. Please ride with care and avoid skidding. Better yet, use the Pauley Creek Trail, an equally fun option.


Downieville is just one of the huge variety of mountain biking spots that the Northern Sierra has to offer. Discover more great rides.

The trail map below is a jpeg of the actual maps from our books and map-sets.
Downieville Bike Trails

Advanced Level Trails

First Divide Trail - Single-track with some technical and exposed sections, and some easier sections.
Second Divide Trail - Technical single-track hugs hillside above Pauley Creek. Exposed in places. Use caution.
Third Divide Trail - Fun, sometimes steep single-track through evergreen forest.
Butcher Ranch Trail - Technical single-track with rocky sections through forest and some meadows.
Pauley Creek Trail - technical, steep single-track.
Big Boulder Trail - Very narrow, steep and technical single-track.
Chimney Rock Trail - Single-track through forest and chaparral. Great views.
Empire Creek Trail - Single-track with a steep, technical section up top and smooth cruising down below.


Directions to trailhead(s):
Ride 1 - Starts from Downieville on Hwy. 49, 45 miles northeast of Nevada City.
Ride 2 - From Downieville, drive east on Hwy. 49 for 18 miles to the town of Bassetts. Turn left on Gold Lake Highway. In 1.3 miles turn left on Packer Lake Road. In 0.25 miles stay right, and then continue for 4 miles to Packer Saddle.