Russian Ridge to Saratoga Gap Mountain Biking Map
Guide to the best South Bay mountain biking trails in the
Russian Ridge, Long Ridge and Monte Bello Open Space Parks near Palo Alto and San Jose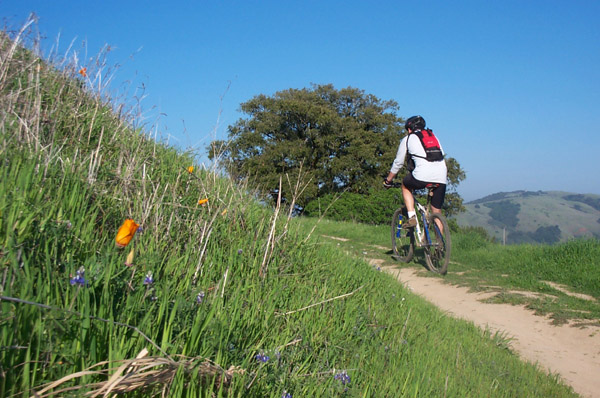 Russian Ridge Area Summary

Location: Skyline Blvd. from Page Mill Rd. to Hwy. 9
Best For: Intermediates
Suitable For: All levels except extreme
Ground Cover: Open, grassy hilltops, wooded hillsides and canyons
Seasons: Good year round. Exceptional in spring (wildflowers). Some trails closed intermittently in winter.
The Mid-Peninsula Regional Open Space District manages a vast network of land holdings in San Mateo and Santa Clara Counties. much of which is open to mountain biking. Bikers owe them (as well as the local trail access group - R.O.M.P.) their gratitude not only for protecting these beautiful areas, but also for treating us as legitimate users. The result is miles of open fire roads and single-track just a short drive from San Jose or Palo Alto.
This map covers the area stretching from Saratoga Gap near Saratoga to Russian Ridge near Page Mill Road. The area encompasses open grasslands and meadows as well as wooded hillsides and canyons. While there are miles of single-track, none of the trails are technically difficult, making the area ideal for beginners and intermediate riders.
Click here to preview the Mid Peninsula Open Space Mountain Biking Map
The Trails
Easy/Intermediate Level Trails
Saratoga Gap Trail - Rolling single-track through woods.
Hickory Oaks Trail - Easy fire road connecting Saratoga Gap to Long Ridge.
Long Ridge Trail - Open, scenic fire road and fun single-track through woods. Subject to seasonal closure.
Peters Creek Trail - Easy double-track and single-track. Subject to seasonal closure.
Ridge Trail - Includes open, easy single-track and fire road with some short, steep sections at Christmas tree farm.
Canyon Trail - Long, graded fire road through lush canyon.
Grizzly Flat Trail - Long, moderately steep hill through woods. Fire road up top, short single-track section below.
Advanced Level Trails

Charcoal Road - Very steep, long hill. Uphill only.
Table Mountain Trail - Steep uphill single-track. Challenging but doable for strong intermediate riders.
Directions to trailhead(s):

The MPROS areas are located approximately one hour's drive south of San Francisco and 40 minutes west of San Jose. Russian Ridge parking is located at the intersection of Skyline Boulevard (Hwy 35) and Page Mill Road. Skyline Ridge parking is located one mile south of the this intersection. Saratoga Gap parking is at the intersection of Skyline and Hwy 9. Access routes to Skyline from I-280 include Hwy 92, Hwy 84, Page Mill Road and Hwy 9.